Pioneers in international education since 2008
We are global leaders in international student recruitment

AECC Global is an international education recruitment company that provides study abroad consulting to international students through its global network of expert counselors and innovative international student recruitment technology solutions.
Our growing global network currently spans over 15 countries and 42 branches worldwide. Our global team of expert counsellors is AIRC certified and supports students every day, keeping up to date with the latest international education trends, emerging student preferences, and next-generation course offerings from our partner institutions.

AECC Global counsellors support students from 142 countries around the world, ultimately helping our partner universities and colleges to recruit a friendly and diverse group of international students. Our professional education counsellors provide end-to-end application support to our students with expert guidance supported by world-class technology solutions developed by AECC Global.

We are global market leaders providing seamless student experiences through our office network on online platforms. Our various integrated platforms, including AECC Course Search, AECC Skills, and AECC Student, provide comprehensive resources for study abroad research, application management systems, AECC MBIT personality, and career-based skills assessments, and streamlined application processes to aspiring international students. AECC Global has a remarkable team of innovation experts at our Digital Innovation Hub, redefining international education application experiences.

AECC Global is a trusted and internationally recognized global brand in international student recruitment with over 700+ university and college partners around the world.

AECC Global is your one-stop solution for international student recruitment.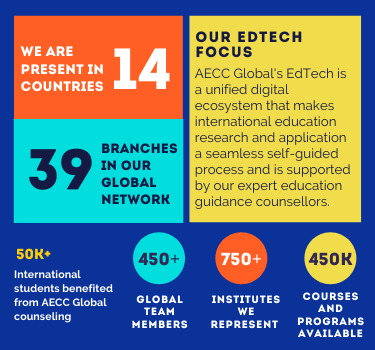 Referral Partners & Sub-Agents
Speak to us about our referral partner and sub-agent programs.
Enquire Now
Education Institutions
Speak to us about global representation for your educational
institute.
Enquire Now